Migrain SQ, They choose not to choose.
            Recently, during their visit to Spain and their beautiful concert in Madrid with Fanfarlo and Ruidoblanco. Migrain Sq chose to spend a good evening with us on the comfy sofa in La Paca Café Bar and answer our questions. They showed why they are an innovative bet from Iran opening all the barriers from our minds.
            En su reciente paso por España y su estupendo concierto acompañando a Fanfarlo y Ruidoblanco en Madrid. Migrain Sq tuvieron el detalle de pasar un rato con nosotros en el cómodo sofá de La Paca Café Bar y responder a nuestras cuestiones. Nos mostraron por qué son una apuesta innovadora desde Irán abriendo todas las fronteras de nuestra mente.
            LBM – What is Migrain Sq and which way do you want to transit?
Olka – So about the history of the band if you're asking, it goes back before we all met each  other… it goes back to 2002 when they started their old band working together, because of the situation, two of the band members left abroad to continue their education and the other one passed away unfortunately, so there was left just Pouya with his old band until he met Nima in a classical orchestra (we are all classical musicians, contemporary classical musicians). They met each other and got to know each other, they noticed that they had the same taste in contemporary classic music so they started their own band with the same title Migrain Sq. Actually they made the first album called Polish Chair, about the genres let's say it's post minimalism, it is published after Madame Buttercry but it was made before. And then, Sara joined the orchestra that I told you, then they met Sara and decided to try another kind of music, because Polish Chair is basically instrumental, so they decided to add the vocals and try a new version of Migrain. And then about me, Pouya is a friend of mine from our childhood, they needed a pianist so I joined them recently for the concerts.
            LBM – ¿Qué es Migrain Sq. y cuál es el camino que queréis transitar?
Olka – Sobre la historia de la banda, si es lo que preguntas, viene desde antes de que todos nos conociésemos. En el 2002 cuando ellos empezaron a trabajar juntos en su antigua banda, debido a la situación dos de los miembros marcharon al extranjero para continuar su educación y el otro miembro desafortunadamente falleció, así que solo quedó Pouya con su banda hasta que conoció a Nima en una orquesta clásica (somos todos músicos clásicos, músicos de clásica contemporánea). Empezaron a conocerse, se dieron cuenta que tenían el mismo gusto en música clásica contemporánea así que iniciaron su propia banda con el mismo nombre: Migrain Sq. Realmente, hicieron su primer álbum Polish Chair… sobre el género digamos que es post-minimalismo, está publicado después de Madame Buttercry pero fue hecho antes. Y luego, Sara se unió a la orquesta que te he contado antes, entonces conocieron a Sara y decidieron añadir letras y voz y probar una nueva versión de Migrain. Y sobre mí, Pouya es amigo mío desde la infancia, necesitaban un pianista así que me uní a ellos hace poco como pianista.
            LBM – In a world full of labels, is it better to erase all labels or is it better to invent your own labels?
Olka – Of course we do not like to label our genre, except minimalism which a motive, a pattern… and they've chosen it on purpose, in both albums you can see the touch of it. The other genres are actually depending on your mood, your feelings, the situation… They compose their music together, they are not fanatic, they do not decide this genre for this track… it just comes out. People can have their own impression. Of course if you ask us What genre are we in? Based on minimalism it's a multi genre album… but the labels, it depends on you. We don't want to erase the labels because we are not conservative.
            LBM – En un mundo lleno de etiquetas, ¿es mejor borrar todas las etiquetas o es mejor inventar las tuyas propias?
Olka – Por supuesto no nos gusta etiquetar nuestro género, excepto minimalismo que es un motivo, un patrón… y lo han elegido a propósito, en ambos LPs puedes ver el toque. Los otros géneros son realmente dependiendo de tu ánimo, tus sentimientos, la situación… Ellos componen su música juntos, no son fanáticos, no deciden este género para este tema… simplemente sale. La gente puede tener su propia impresión. Por supuesto si nos preguntas en qué género estamos, basado en el minimalismo es un álbum de múltiples géneros… pero las etiquetas, dependen de ti. No queremos borrar las etiquetas porque no somos conservadores.
            LBM – What is the best ingredient for a nice love story: a good soundtrack or a happy ending?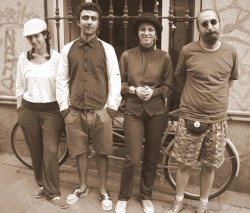 Olka – Love story? we don't know what to answer, it's up to the audience. Even among us, the perspectives and the visions, our ideas… are different, at the same time we have the same taste but for example Sara is the vocalist, the lyrics become more personal for her. Sometimes it's something we all share. It's the same for the audience. One of the characteristics of the lyrics in this band is that the way we play with the words, you can see it in Madam Buttercry and Murder Murderer on the wall, the title of Love Story was one of those playing with the words. It was more about playing with the words rather than being about a story. But if you're talking in general, I think that's personal.
           LBM – ¿Cuál es el mejor ingrediente para una bonita historia de amor: una buena banda sonora o un final feliz?
Olka – ¿Historia de amor? No sabemos qué responder, el público decide. Incluso entre nosotros, las perspectivas y las visiones, nuestras ideas… son diferentes, al mismo tiempo tenemos el mismo gusto pero por ejemplo Sara es la vocalista, las letras se convierten en más personales para ella. Algunas veces es algo que todos compartimos. Es lo mismo para el público. Una de las características de las letras en esta banda es la manera en la que jugamos con las palabras, lo puedes ver en Madame Buttercry y Murder Murderer on the wall, el título de Love Story fue uno de esos juegos de palabras. Fue más sobre jugar con palabras que una historia. Pero si hablas en general, creo que es personal.
            LBM – subquestion: What are you inspired by?
Olka – About the inspiration in general, I'd say that the world of inspiration is so vast for us, for example: from the Iranian literature, International literature, from the music that we listen… Of course we've got lots of incomings in our musical taste but at the same time, we've got lots of differences… and the musicians, their origins, Pouya, Nima and Sara they are classical musicians doing contemporary classical music and the social situation that we live in, our moods, our personalities… there are plenty of things that inspire us… Even the Internet! (laughs)
            LBM – subpregunta ¿En qué os inspiráis?
Olka – Sobre la inspiración en general, diría que el mundo de la inspiración es tan vasto para nosotros, por ejemplo: de la literartura Iraní, literatura internacional, de la música que escuchamos… Por supuesto tenemos muchas influencias de nuestro gusto musical pero al mismo tiempo, tenemos muchas diferencias… y los músicos, sus orígenes, Pouya, Nima y Sara son músicos clásicos haciendo música clásica contemporánea y la situación social en la que vivimos, nuestros ánimos, nuestras personalidades… hay muchas cosas que nos inspiran, incluso Internet. (risas)
            LBM – Top 5 songs to see a sunset any place in the world.
Pouya – Songs? It's so difficult. It's impossible. It depends on the mood you are in. When I wake up in Madrid, I like to listen to a sunny song but when I wake up in the South of Iran, maybe I'll listen to happy music. When I wake up in my home, they are… so different.
            LBM – Top 5 canciones para ver un atardecer en cualquier parte del mundo.
Pouya – ¿Canciones? Es tan difícil. Es imposible. Depende del estado en el que estés. Cuando me despierto en Madrid, me gusta escuchar una canción soleada pero cuando me despierto en el sur de Irán, quizás escucharé música feliz. Cuando me despierto en mi casa, las canciones son tan diferentes.
            LBM – Well you can say five songs that you like
Pouya – My favourite songs, I think I should say albums. My first favourite composer was Alfred Schnittke. Then I like the Eighth Symphony of Philip Glass and also I love John Taverner. And I love… it's very difficult! If I go back to my teenage years, I'll say Led Zeppellin. (laughs)
            LBM – Bueno, puedes decir 5 canciones que te gusten.
Pouya – Mis canciones favoritas, creo que debería decir álbums. Mi primer compositor favorito es Alfred Schnittke. Después me gusta la Eighth Symphony de Philip Glass y también me encanta John Taverner. Y me encanta… es tan difícil. Si me voy atrás hasta mis años adolescentes, te diré Led Zepellin (risas)
            LBM – Where is the Magic of Madame Buttercry?
Pouya – I don't know, I don't know (laughs)
Olka – I think she (Sara) would say the same thing. Because it's you, it's in your impression. If you think that it's magic, it's magic. When we compose something, of course we've got lots of ideas inside our brain, but we don't want to put things on you. Actually what exists in our mind which helps us to compose and create music should come out with notes, with the music and the melody itself, if you try to explain it we ruin the whole idea because our way of communication is our melody, our music so…
            LBM – ¿Dónde reside la magia de Madame Buttercry?
Pouya – No lo sé, no lo sé (risas)
Olka – Creo que ella (Sara) te diría lo mismo. Porque eres tú, es tu impresión. Si piensas que es mágica, es mágica. Cuando componemos algo, por supuesto tenemos muchas ideas dentro de nuestros cerebros, pero no queremos poner cosas en el tuyo. Realmente lo que existe en nuestra mente que nos ayuda a componer y crear música debería salir con notas, con la música y la melodia misma, si tratas de explicarlo arruinamos la idea al completo porque nuestra forma de comunicación es nuestra melodia, nuestra música, así que…
            LBM – … but do you think it's magical, do you like this song?
Olka – of course we like the song! We've got lots of interviews today and each interviewer had his or her own impression and that is quite valuable for us to listen. You say it's magic, the other one says another thing… we love it, we enjoy it but we cannot add anything.
            LBM – … pero ¿pensáis que es mágica, os gusta esta canción?
Olka – Por supuesto nos encanta la canción. Hemos tenido muchas entrevistas hoy y cada entrevistador tenía su propia impresión y eso es bastante valioso para nosotros. Tú dices que es mágica, el otro dice otra cosa… nos encanta, lo disfrutamos pero no podemos añadir nada.
            LBM – Are all prophecies written and fate has no escape?
Olka – This is really a personal question, we cannot say on behalf of the band but we can answer it personally. Pouya never thinks about it, he has never thought about it like this. And me myself, I don't call it fate, I call it my goal, it's not that kind of spiritual for me… destiny and faith and such things, but I do have a goal that I believe in.
            LBM – ¿Están todas las profecias escritas y el destino no tiene escapatoria?
Olka – Esta es realmente una pregunta personal, no podemos decirlo en nombre de la banda pero podemos responder personalmente. Pouya nunca piensa en ello, nunca ha pensado sobre algo como esto. Y yo, no lo llamo destino, lo llamo mi objetivo, no es ese tipo espiritual para mí… el destino y la fe y esas cosas, pero sí tengo un objetivo en el que creo.
            LBM – Does the vision of a musician depend on the place the music is born or is it as wide as it can be?
Olka – Of course it depends on the place the music is born but sometimes it's a purpose to indicate something as the symbol of your country or hometown. This is not a purpose in our music, of course we are influenced  and inspired by our own country, our own social situation, our feelings as Iranians… it's not controllable, but it is not on purpose, it happens.
            LBM – ¿La visión del músico depende del lugar donde la música nce o es tan amplia como puede ser?
Olka – Por supuesto depende del lugar donde la música nace pero algunas veces es un propósito en nuestra música, por supuesto estamos influídos e inspirados por nuestro propio país, nuestra propia situación social, nuestros sentimientos como Iraníes… no es controlable, pero no es a propósito, simplemente pasa.
            LBM – Three things that are always with you on a trip and two things we can expect from your live concerts.
Olka – Objects? Lucky object? No, I don't have. I always pick my skirts because I love skirts. My backpack and my colour pencils because I draw.
Pouya – Of course my sunglasses, here. Nothing else, really nothing else.
Olka – For me it's the first time I am in a live concert so I cannot say.
Pouya – This towel, the most important thing. (laughs)
Olka – Yes, that's it because he sweats a lot and sometimes he cannot even see.
            LBM – Tres cosas que siempre están en un viaje y dos cosas que podemos esperar de vuestro directo.
Olka – ¿Objetos? ¿Objetos de la suerte? No, no tengo. Siempre llevo mis faldas porque me encantan las faldas. Mi mochila y mis lápices de colores porque dibujo.
Pouya – Por supuesto mis gafas de sol, que están aquí (las muestra). Nada más, realmente nada más.
Olka – Para mí es la primera vez que estoy en concierto con ellos así que no te puedo decir.
Pouya – Esta toalla, la cosa más importante (risas).
Olka – Sí, eso es porque suda mucho e incluso algunas veces no puede ver.
            LBM – A famous quote, a motto, that you would put in your rehearsal place to inspire yourselves.
Olka – We never do such things, we never stick to a sentence for example, in the rehearsal location. But if we were forced to choose a sentence, we would say WE CHOOSE NOT TO CHOOSE. When you do this, you actually block your mind to one point of view and it doesn't let you to have a free mind. When you don't stick to a special sentence, to a special logic or whatever, you can have lots of ideas, thoughts… you can free your mind.
            LBM – Una cita célebre que pondríais en vuestro local de ensayo para inspiraros.
Olka – Nunca hacemos esas cosas, no nos ajustamos a una frase por ejemplo, en el lugar de ensayo. Pero si nos obligas a elegir una frase, diríamos ELEGIMOS NO ELEGIR. Cuando haces esto, realmente bloqueas tu mente a un punto de vista y no te permite tener una mente libre. Cuando no te ajustas a una frase especial, a una lógica especial o lo que sea, puedes tener un montón de ideas, pensamientos… puedes liberar tu mente.
            LBM – What is your musical recommendation? An artist you recommend to insert in this "chain of music" we like to have in our website.
Pouya – A really good question, I like it.Let me think… I recommend you to listen to Siavash Amini albums, published in Oido Records too, his band is called Photomat. His albums are different from his band's albums.
Olka – He is another Iranian artist, he has his own band and also his individual music.
Pouya – I think he has released two albums in Oido Records and they are available her in Spain.
            LBM – ¿Cuál es vuestra recomendación musical? Un artista que recomendéis para ponerlo en nuestra "cadena de la música".
Pouya – Una pregunta realmente buena. Me gusta. Déjame pensar… recomiendo que escuches los LPs de Sivash Amini, publicado en Oido Records también, su banda se llama Photomat. Sus álbums son diferentes de los de su banda.
Olka – Es otro artista Iraní, tiene su propia banda y también su música en solitario.
Pouya – Creo que ha sacado dos álbums en Oido Records y están disponibles aquí en España.
            LBM – Muchas gracias, de verdad.
Pouya & Olka – Gracias a vosotros.